Please be reminded that all helmets must have Date of Manufacture details.
Please be vigilant when purchasing a helmet to use at an AIDKA sanctioned event. The responsibility lies with the user to make sure it fits correctly and that it complies with our rules.
Rule  13.1      Helmets
a) Must be in sound condition, fitted and worn as per the manufacturer's instructions
 b) Must have a date of manufacture, maximum age no more than 10 years from this date
c) Must be Full Face, and bear a label indicating they comply with one of the following standards:
(i) AS/NZS 1698
(ii) ECE22.05
(iii) Snell SA2010, SAH2010, SA2015, M2010, M2015, K2010, K2015
(iv) Snell-FIA CMR2007, CMS2007, CMR2016, CMS2016
(v) SFI 24.1, 31.1, 31.1A, 32.2A
(vi) FIA-8860, FIA-8859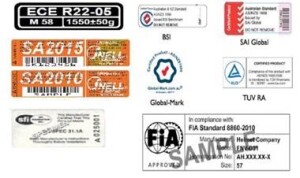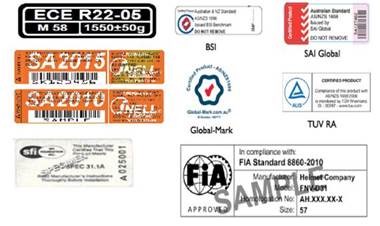 d) Must be fitted with either a shatterproof visor as supplied by the manufacturer or googles.  Tear-offs, Roll-ons or similar must be used to maintain good vision, and must have a device to retain them to the helmet when used (i.e. rubber grommet or zip-tie) Visors must be closed whilst the kart is under power within the race arena.
e) Cameras are not permitted to be mounted on helmets.
f) Must be scrutineered, with an AIDKA approval decal applied, and details recorded into the user's logbook before used